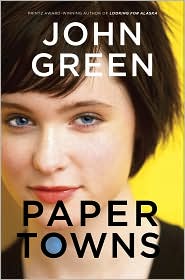 Librarians may have greeted
An Abundance of Katherines
with loud hosannas, but I closed the book without any desire to revisit John Green. Partly the guy humor/language—there's a girl in
Paper Towns
who's subjected to a typical crack and responds with "Not. Appropriate." My reaction entirely. But the hundred-odd references to balls aside, Green gives readers something more this time around.
When Margo Roth Spiegelman beckons Quentin Jacobsen in the middle of the night--dressed like a ninja and plotting an ingenious campaign of revenge--he follows her. Margo's always planned extravagantly, and, until now, she's always planned solo. After a lifetime of loving Margo from afar, things are finally looking up for Q . . . until day breaks and she has vanished. Always an enigma, Margo has now become a mystery. But there are clues. And they're for Q.Paper Towns
turned me on to Whitman, for one thing, a poet I've always shrugged off. I now know you don't ignore the man who writes that grass is "
the beautiful uncut hair of graves
." Just don't. However, for those who definitely didn't buy John Green to read poetry, he balances the verse:
"Great." Ben rolled his eyes. "Poetry."

"What's wrong with that?" I asked.

"Poetry is just so emo," he said. "Oh, the pain. The pain. It always rains. In my soul."

The themes in
Paper Towns
are ideas that have been running through my head lately. I underlined several bits:
"It's so hard for anyone to show us how we look, and so hard for us to show anyone how we feel."

"Just saying: stop thinking Ben should be you, and he needs to stop thinking you should be him, and y'all just chill the hell out."

"A Margo for each of us—and each more mirror than window."

"…he was something that happened to me, you know? But before he was this minor figure in the drama of my life, he was—you know, the central figure in the drama of his own life."
Plus, Green knows how to deliver a laugh.
"Forever is composed of nows," she says. I have nothing to say to that; I am just chewing through it when Margo says, "Emily Dickinson. Like I said, I'm doing a lot of reading." I think the future deserves our faith. But it is hard to argue with Emily Dickinson.
So I'm a little impressed with
Paper Towns
. I am still chewing through it. And apparently,
there's going to be a movie
. By the same people who made
Juno
. Um, I'm going?